Tutorial: How-to Fix Problem Installing/Updating Apps from QooApp
If you're having issues installing or updating apps from QooApp whether the download is stuck at 100% and the install notification never shows up or you're seeing a Parse error, then we will show you how to manually open and install the downloaded .APK from QooApp. This seems to be a persistent problem when using QooApp even if you are on the latest version. I have tried everything from uninstalling and reinstalling the app and QooApp, clearing the cache, to pressing the Delete APK option on QooApp and trying to re-download the app, but nothing worked 100% of the time until this.
Fix Stuck Download on QooApp
If the download is stuck on 100% and you're not getting prompted to install/update the app then follow this tutorial. Basically, all of the downloaded .APK files from QooApp are located in /Android/data/com.qooapp.qoohelper/files/download. Use a file manager to navigate into this folder and open the .APK file directly from there.
1. Download a file manager onto your Android device. I am using ES File Explorer in this tutorial but you can use your own.
2. Open ES File Explorer and click the on three horizontal lines to open more options.
3. Press Internal Storage under Local.
4. Open the Android folder.
5. Open the data folder.
6. Open the com.qooapp.qoohelper folder.
7. Open the files folder.
8. Open the download folder.
9. Long-press the .APK to display more option.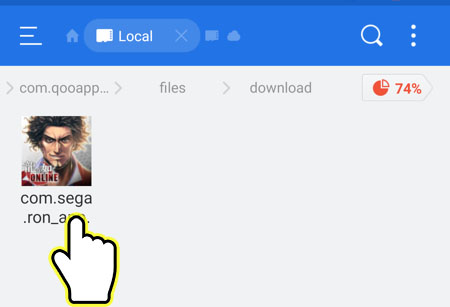 10. Press Install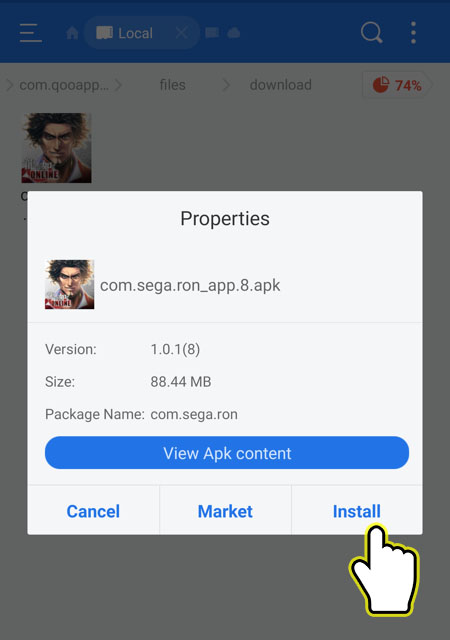 11. Press Install again to install the app.